Yield 6 cups or 3 -4 lunch servings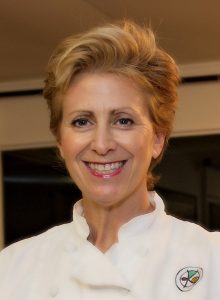 | | | |
| --- | --- | --- |
| 3 | Cups | Chicken Broth, preferably organic |
| 2 | Large | Boneless, Skinless Chicken Breast |
| 2 | Large | Pieces fresh Ginger, squash or ginger peels |
| 6 | Stalks | Celery, small dice |
| 4 – 6 | Tablespoons | Minced Ginger |
| 4 – 6 | | Green Onions, Chopped |
| 1/2 | Small Bunch | Mint, Chopped |
| 1/2 | Cup | Mayonnaise |
| As Needed | | Kosher Salt |
| As Needed | | Freshly Ground Black Pepper |
| 1 | large | Fresh Ripe Papaya |
In a small pot, heat chicken broth to 165℉ – 185℉. Add chicken and poach chicken till a thermometer reads 150℉ when inserted into the thickest part of the breast. Remove and let cool.
Dice chicken into a large dice. Add celery, minced ginger, green onions, mint and mayonnaise and mix well.
Add salt and pepper to taste.
If you can serve this inside a nice Fresh Papaya, scoop it out and remove seeds, mound chicken salad in center.
Note: be careful not to boil chicken, it will be rubbery!