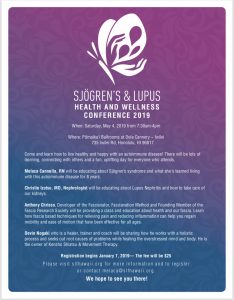 Happy New Year!
We are so happy to announce that you can register for the conference on May 4, 2019. We are looking forward to sharing lots of great information, providing support and helping you to meet and connect with others living with an autoimmune disease. Learn how you can live your best life healthy and happy everyday!
Please visit slfhawaii.org for more information and to register. Email [email protected] with any questions. We'd love to connect with you if you are interested in becoming a sponsor, vendor or volunteering!
Please subscribe to our blog to receive updates about additional speakers, vendors and the conference at the bottom of this page. We will work on updates until May 3, 2019 so let's stay connected….
I hope to see you there!