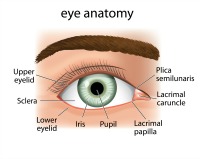 With Optometrist Dr. Jeff Sakai……
Dry eye syndrome is one of the most common eye diseases in the general population, and particularly in patients with autoimmune diseases like lupus, rheumatoid arthritis, and Sjögren's Syndrome. And yet, it is one of the most underdiagnosed and undertreated of all the eye conditions. This results in many patients who continue to suffer from this chronic condition unnecessarily. Why does this continue to happen?
Doctor/Patient Miscommunication?
In my opinion, the major reason for this is inadequate communication between doctor and patient. Dry eye is often not a major concern from the doctor's point of view because it tends to be pretty benign- for the majority of patients it does not cause significant damage to the eye or vision. For the patient, however, dry eye symptoms can range from mildly annoying to debilitating. Common symptoms include redness, irritation, excessive watering, mucus production, blurred vision, light sensitivity, and eye fatigue. So although dry eye syndrome tends to be viewed as a relatively harmless condition, few diseases can so adversely affect the way a person functions in day-to-day tasks. I hear these complaints from patients all the time. Some patients have to constantly dab their eyes with tissue because of tearing. Some cannot use the computer for more than an hour without feeling pain and irritation. Some have difficulty driving home at night because the oncoming headlights cause extreme glare and light sensitivity. These complaints go on and on, which means countless dry eye patients have significantly decreased quality of life. In order to correct this problem, there needs to be improved dialogue between doctors and patients.
What Patients Can Do to Help
Patients should always be open and honest about their complaints and concerns about their eyes. If you are experiencing symptoms, go beyond just saying that your eyes are dry or irritated. Explain that you need to instill drops every hour to find relief or that you cannot go to the beach because of your burning eyes and glare from sunlight. Be very specific with your symptoms and do not downplay how much it bothers you. This is particularly important because the clinical signs that we see during an exam will often not match up with your symptoms. A healthy-looking eye from our standpoint may still be causing significant dry eye symptoms for the patient. Remember that dry eye is a disease, and there are ways for doctors to help if they understand the nature and severity of your problems.
What Doctors Can Do to Help
The education and communication coming from the eye doctor is just as important. We need to do a good job listening to the patient's complaints, and asking more questions during the history. Once we determine the diagnosis, we should educate the patients properly so that they understand why the symptoms are occurring and what they can do to improve their condition. It is also important to schedule follow-ups when needed to see if the current treatment plan is working or to modify the regimen as necessary. During this whole process, we should keep the point in mind that although dry eye tends to be pretty benign, it may be a huge problem from the patient's perspective. And often, this is the main reason why they are coming to the clinic- so their dry eye issues may be properly addressed and treated. Doctors should also inform their patients about the different treatment options for dry eye, including artificial tears, prescription topical and oral medications, nutritional supplements, and eyelid compresses and scrubs. Many patients still incorrectly believe that their only treatment option is artificial tears.
If you continue to suffer from dry eyes, make sure you openly communicate with your doctor, and follow up if the course of treatment is inadequate. There is no reason for you to continue to suffer in silence when we have so many available treatment options that can improve your day-to-day life.
The opinions expressed in this blog post are the author's and may not necessarily be shared by the Sjögren's and Lupus Foundation of Hawaii.
Please make sure to consult your eye doctor to discuss the best management options for you.
Please remember everyone's body is different and unique. Always discuss any areas of concern about your autoimmune disease with your doctor.
For more information or to contact Dr. Jeff Sakai, please visit him at www.sakaioptometry.com or www.facebook.com/sakaioptometry