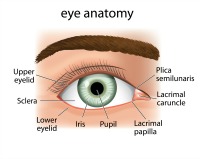 With Optometrist Dr. Jeff Sakai……
I often get this question from patients with autoimmune conditions like Sjogren's Syndrome, lupus, and rheumatoid arthritis. In order to understand the answer, you first need to know a little about tears. There is a tear film that constantly coats and bathes the eyeball's exposed structures. It acts to wash away debris, provide nutrients and oxygen to the eye, help prevent injuries and infections, and maintain a clear optical surface for good vision, among other things. The tear film consists of three layers: 1. mucin, 2. aqueous (watery), and 3. lipid (oily). Those three components must remain in the proper balance in order to keep the eye properly lubricated.
There are two main categories of dry eye disease: 1. aqueous-deficient and 2. evaporative. In aqueous-deficient dry eye, the lacrimal glands in the eyelids do not produce enough of the watery component of the tears. In evaporative dry eye, tears evaporate too quickly because of an inadequate oily layer. Patients with autoimmune conditions often have the aqueous-deficient type of dry eye, due to inflammation of the lacrimal glands. However, these patients may also have the evaporative type if their meibomian (oil-producing) glands in their eyelids are plugged up.
The best treatment options largely depend on the category of the disease. Possible treatments can include artificial tears and lubricants, topical eye medications such as corticosteroids and cyclosporine, oral medications or nutritional supplements, temporary or permanent closure of the tear drainage system, and various procedures to clear up the blocked oil glands.
Please make sure to consult your eye doctor to discuss the best management options for you.
Take care!
For more information about Dr. Jeff Sakai please visit him at www.visionsource-drsakai.com.