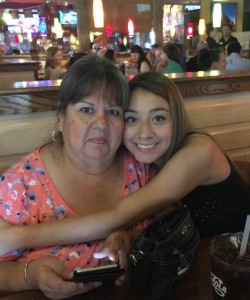 My name is Miranda and someone I love has Lupus. I am a Public Health student at University of Hawaii and will be graduating in the spring of 2016. One of my goals is to help raise awareness and provide support, education and resources for those living with lupus. I am working on a much needed resource guide as well as sharing information about lupus at campus events and in the community with the Sjögren's and Lupus Foundation of Hawaii.
All of my life my grandmother Mary has had Systemic Lupus Erythematosus. Growing up my grandmother's health has been somewhat like a rollercoaster, very bumpy and always up and down. However, now I am very thankful that she has more good days than bad. I look up to her in every way because she is such a strong person both through her life and her illness. In fact, she has taught me to keep going and to take things one day at a time. Having lived with lupus for 33 years, my grandma is the strongest person I know! Because of all the ways that she has inspired me, I want to rededicate my time and efforts into creating a resource guide for those who have been diagnosed with Lupus. I hope it will positively impact the lives of those who need it as well as spread awareness about this disease that many fight on a daily basis.
My grandmother is a Lupus warrior!
Thank you grandma for inspiring me with your strength, I love you to the moon and back!