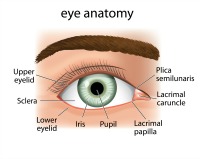 With Optometrist, Dr. Jeff Sakai…….
Dry eye syndrome is one of the most common conditions seen in primary eye care. It is even more prevalent in patients with autoimmune conditions like Sjögren's and Lupus.
The following are common dry eye symptoms:
Discomfort, burning, or pain.
Mucus discharge.
Sensitivity to light.
Tired eyes- especially with prolonged visual tasks like watching television, reading or computer/tablet/mobile phone use.
Gritty or sandy feeling- patients often think they have foreign bodies in their eyes.
Redness- usually a chronic issue. Often gets worse throughout the day, especially with wind, air conditioning, and computer use.
Excess watering- although this seems counterintuitive, watery eyes are extremely common in dry eye syndrome. The eyes get irritated and dry, and the tear glands respond by producing excessive tears.
Blurred vision- this can be constant or fluctuating. The vision can often change with blinking due to an unstable tear film that coats the eye.
Reduced tolerance to contact lenses.
If you are experiencing any of these symptoms, please see your eye doctor for a full evaluation. Your doctor will be able to rule out other pathologies and also recommend treatment options.
Please remember everyone has different needs. Work hard to figure out what works best for you with your physician.
Take care!
For more information about Dr. Jeff Sakai please visit him at www.visionsource-drsakai.com.