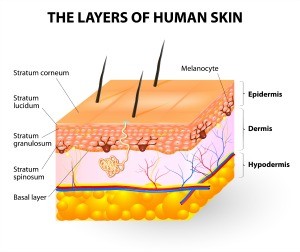 With Dermatologist Dr. Miki Garcia…….
 All year in Hawaii, we should be watching our skin for changes but this month is just a reminder for what we should be looking for and possibly to change our habits.
Most dermatologists will recommend doing a self skin check once a month to check for new or changing growths on your body. If you are unable to see your back, have someone else at home help you. It is hard to sum up with words what you should be looking for but we use the mnemonic "ABCDE" to help us to remember.
A = asymmetry
B = borders, irregular
C = color, multiple or changing
D = diameter > 6mm (approximately size of pencil eraser)
E = evolution or change
If any spot is new or worrisome for you, please make an appointment and don't wait until next year! If your dermatologist feels that the spot is suspicious, they will likely want to take a biopsy of the lesion which can usually be done in the office. After the biopsy returns, we will be better able to discuss treatment if necessary.
In general, melanoma is more worrisome than the more common skin cancers because it can be aggressive. This means that it can grow rapidly and possibly metastasize to other areas of the body. The mortality rate is high for advanced melanoma so therefore early diagnosis is important.
It is also a reminder for us to review our sun safety. This means seeking shade when possible, avoiding mid-day sun, wearing a hat and sunglasses and long-sleeved clothing or rashguards, and wearing sunscreen. For sunscreens, remember to look for broad-spectrum, water resistant up to 80 minutes. I prefer sunscreens with zinc oxide such as Elta MD UV Clear or Elta MD UV Daily for the face and Blue Lizard for the body.
Make a difference……. Spread the word about preventing skin cancer! Help raise awareness and help educate, to prevent or detect it, at home and in our community.
Please remember everyone's body is different and unique. Always be sure to make your doctor aware of any areas of concern on your body.
Take care!
For more information about Dr. Miki Garcia please visit her at www.oahuderm.com.