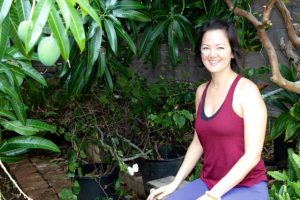 Mallori was diagnosed with Lupus Nephritis right before her seventeenth birthday.
Raised in the Bay area, she has lived on Hawaii for the last five years. Her father is from Oahu and she is currently caring for her grandparents.
She graduated from high school, attended college for a short period of time then took a much needed break.
Returning to the University of Hawaii, she began studying human sciences and ultimately earned a bachelor's degree in Food Science and Human Nutrition.
She has faced many struggles since being diagnosed and living with lupus. These challenges have helped her to see her weaknesses while allowing her to dig deep to find many strengths. Writing about her journey has helped her to see that the life that was turned upside down over thirteen years ago has actually become a more purposeful one! Mallori believes she has been blessed with the opportunity to see things from a different perspective.
In December 2015, she spent a month in India studying yoga. Mallori is excited she is now able to share her love for yoga! She is currently teaching UH students and private classes.  Those living with both Sjögren's syndrome and Lupus will benefit from her knowledge. She will be offering classes throughout the year to introduce and encourage people to learn about yoga.
Her previous volunteer experience with Dr. Terry Shintani and his 10 day programs to reduce inflammation and chronic conditions has given her a good foundation in nutrition. She has worked as a hemodialysis technician and is currently at MD Restoration in Client Relations and as a Marketing Manager.
She hopes that the combination of yoga and nutrition, along with her life experience will encourage others who are living with similar conditions to take steps towards improving their health!
Read about her journey in the Lupus Warrior section on this website.