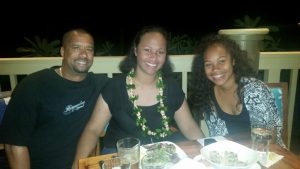 It's been 11 years and I'm thankful to be healthy and alive!
Living with Lupus……. Not letting the disease take over my life……… I have my Lupus under control.
This year has been great so far! I'm fortunate to be living a pretty active life. Working a full time job, hardly calling out sick and I haven't had more than 5 flares this year.
Highlights of my year……
* My greatest supporters (my family) and I participated in the Great Aloha Run for the first time. We jogged but mostly walked and we made it! We are looking forward to next year.
* I have found a church that I can call home, New Hope Kapolei. I feel having strong faith in God has also helped with my Lupus. Looking at life in a much more positive way. I just feel so much better.
* My family and I also participated in the E Ola Pono Ma Kapolei. I walked most of the course but was happy just being able to finish it even in the sun! It was a great accomplishment.
* My daughter Jasmine played Club Volleyball for the first time. For those of you who know the sport you would understand why I listed this as a highlight. I never missed a practice or a tournament. Tournaments can last for hours and I was able to be there to cheer her on in good health!
*I was able to fly to Kauai for a Mother's Day getaway. The Marriott Beach Club was perfect! It was a weekend of relaxation, family time and good food. I was treated to breakfast in bed, a full body massage and just when I thought it couldn't get any better…… my life partner of 15 years popped the question. "Because they say nothing lasts forever". He asked me to be his "nothing". I'm engaged!!!! It was one of the greatest moments of my life along with the birth of my daughter. I'm just so happy…….. and because I am happy…..I'm staying healthy.
Taking my meds, routine visits with my rheumatologist as well as exercising and listening to my body have been the keys to better health. I also feel my support system has really kept me going. I am the only one in my family with Lupus and the support as well as helping to raise awareness about Lupus has been great!
Please remember everyone's body is different and unique. Always discuss any areas of concern about your autoimmune disease with your doctor.