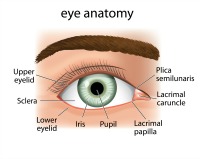 With Optometrist, Dr. Jeff Sakai……
Plaquenil (hydroxychloroquine) is a commonly prescribed medication for rheumatological diseases like lupus, rheumatoid arthritis and Sjögren's syndrome. It is a disease-modifying antirheumatic drug (DMARD) which reduces joint pain, inflammation, and skin rashes. Although Plaquenil is usually well tolerated by patients, one of its possible side effects is vision loss due to toxicity within the retina (the light-sensing tissue in the back of the eye). Although the occurrence of this damage is rare, the vision loss is often irreversible and it can affect your critical central vision. This is why early detection is key.
There are a number of risk factors that increase your chance of hydroxychloroquine retinopathy- they include high daily dosage, cumulative dose (total amount taken over time), obesity, older age, kidney and liver disease, and preexisting retinal disease. Patients who have taken the medication for over five years and are over the age of 60 are at particularly higher risk.
In 2011, the American Academy of Ophthalmology (AAO) released new screening guidelines for patients on hydroxychloroquine. They recommend a baseline eye examination upon starting the medication, and annual screenings after five years for those patients who do not fall in the high-risk categories. The AAO also updated their list of recommended tests, which include an automated visual field, along with one of three newer and more sensitive tests: fundus autofluorescence (FAF), spectral domain optical coherence tomography (SD-OCT) or multifocal electroretinography (mfERG). The important thing for patients to know here is that these high-tech tests usually will detect retinal toxicity much sooner than the tests that were recommended in the past. Subjective tests that were recommended previously, like the home Amsler grid (central vision test) and color vision testing, often would pick up the retinal disease too late in the process- when vision was already compromised.
So although Plaquenil is often an effective medication for rheumatological disease, it is critical for patients to get their eyes checked in order to prevent vision loss. And please remember- even though your vision may seem fine, there still may be early toxicity occurring. So be proactive and get your eyes checked!
Please remember everyone's body is different and unique. Always discuss any areas of concern about your autoimmune disease with your doctor.
Take care!