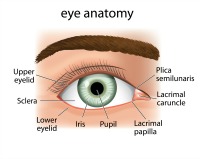 With Optometrist Dr. Jeff Sakai………
Prednisone is one of the most commonly prescribed medications for autoimmune conditions like lupus and Sjögren's It is in the corticosteroid family of medications, which are used to decrease inflammation. In a recent blog post, Melaca discussed how prednisone was very effective in treating her bronchitis and liver inflammation, but there were a number of side effects that she had to learn how to manage. It seems that many patients have a love-hate type of relationship with prednisone (and other corticosteroids). They love the drug's effectiveness in reducing pain and improving their day-to-day functionality, but they hate dealing with the long list of side effects. These side effects include weight gain, acne, osteoporosis, increased blood sugar levels, stomach ulcers, and mood changes- to name just a few. Prolonged corticosteroid use can also cause problems with the eyes, most notably cataracts and glaucoma.
Cataracts cause clouding of the natural focusing lens inside the eye, which can result in hazy or blurred vision, haloes or starburst patterns around lights, changes in color perception, double vision and increased glare. Although cataracts develop naturally with age, corticosteroid use can speed up the process. The most common kind of cataract associated with steroid use is the posterior subcapsular type, which can cause significant vision loss over a relatively short time period. Fortunately, cataracts can be effectively treated with surgery in the majority of cases.
Glaucoma is a disease which causes gradual peripheral vision loss due to progressive damage of the optic nerve, which sends the visual signals from the eye to the brain. Glaucoma is often associated with elevated fluid pressure inside the eye. Extended corticosteroid use can cause the eye pressure to increase, which can result in glaucoma damage over time. Glaucoma usually does not cause any visual symptoms in the early to moderate stages of the disease, so it is important for patients to get their eyes checked if they are on prolonged steroid treatment.
Here are a few tips to remember:
There are many different types of corticosteroids and multiple routes of administration including: oral, topical, injection, nasal sprays and inhalation. Any of these forms of steroids can cause cataracts or glaucoma over an extended term, but the topical eye drops and eye ointments run the highest risk. There is also a risk with steroid creams, like hydrocortisone, when used around the eyes and on the eyelids. So make sure you use your medications only as directed by your doctor.
If you will be on any corticosteroid treatment for more than a few weeks, it is advisable to get an eye examination to monitor for side effects. This is especially true for patients who have a history of cataracts and/or glaucoma.
If you have a history of open angle glaucoma or a family history of glaucoma, you are at higher risk for developing steroid-induced glaucoma.
Do not increase, decrease, or stop your medications without medical consultation. Stopping a steroid treatment abruptly can result in a withdrawal or rebound response. Steroids are usually tapered over time to prevent this.
Please be sure to follow up with an eye doctor if you are taking corticosteroids. Remember, everyone's body is different so please make sure you work with your doctors to address your individual needs and discuss your options that will work best for you and your body.
Take care!
For more information about Dr. Jeff Sakai please visit him at www.visionsource-drsakai.com.