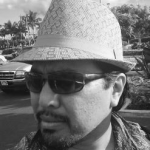 Huge MAHALO to Anthony Solis for all of his help! He has trained and mentored me on how to set up my websites. His knowledge and patience with me has been awesome! I had very little background in working with websites so he had a very hard job to do!
I wanted to share a little bit about him and his company inter808.
He has a background in Computer Science, the early dot.coms, technical support and has been helping others leverage the Internet and related technologies, since 1996.
Operated & Resold Pagers & Airtime
Sys Admin & Suport for Email Services
Technical Support for early dot.coms
A Cellular Agent when a Startac was high tech
Videogame tester for Electronic Arts & PlayStation
Verizon Wireless Sales & Support Rep
Got an A+ coding & design a compiler in Assembly & C
Satellite Dispatch/Tech Support – The Filipino Channel
Owner of Koomohost – Cloud Hosting (Amazon AWS)
He is enjoying life with his 8 kids, wonderful wife of 20 yrs plus and living on the island of Oahu. For more information, please visit www.islandgeek.us