With Chef Kathi……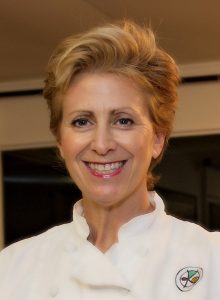 For me, when I was diagnosed over 23 years ago in San Francisco, I had a lot of questions. I felt that knowledge was not only my friend, but a way to guide me in the decisions and choices I had to make.
What has this got to do with eating healthy? Knowledge of how our bodies function, what is in our foods and where the food comes from is as important as understanding your disease and working with your doctors. Before I can map out what to buy, where to buy it and the recipes, I want to give you the knowledge to understand the why behind how our bodies work and the foods we put into them. Please believe me, this will make a huge difference in the choices you make for you and your family.
Without asking you to take a college course here is some basic and easy information. The human body hasn't changed in design since Homo Sapiens have been roaming the planet. Our foods certainly have in many ways. Our bodies were designed to eat and digest simple sugars: fructose from fresh fruit, starches from fresh vegetables and honey. Our ancestors ate honeycombs as a treat. Teeth were meant to chew meat which was recently killed; it was lean, very little fat and certainly no hormones or antibiotics. Nuts and seeds were unprocessed and used as fuel to hunt and keep warm when needed. Think of it, our ancestors never ate a preservative, hormone, filler, antibiotic or GMO anything.
Our bodies have a natural mechanism to tell us when we are hungry and when we are full. Just as we know when we are thirsty (all of us certainly know that,) and when we are not. Research has lead many to believe that our bodies understand the compounds and elements in Natural Foods. These are fresh fruits and vegetables. Whole grains and nuts, proteins and legumes. Our bodies are confused by high fructose sugar, preservatives, hormones, antibiotics and dyes which are found in so much of our processed foods these days. And it is everywhere.
The belief is that our bodies cannot run efficiently if we eat something like a cereal with dye in it and high fructose corn syrup. Our bodies struggle to process it. The body was not designed to understand and efficiently digest these highly processed chemicals. Add to that lunch with salad dressing with preservatives in the bacon bits and dressing. And later the chicken with growth hormones and antibiotics. If you, like me, have a body which is already compromised, it is now working even harder and not very efficiently. It's confused and just trying to work out what is going on. Not on you and your health. You could be eating the exact same meal, without all the chemicals, additives. Supplementing your health with a cereal with honey and no dye. The salad dressing without HFCS and real bacon without nitrates (more on that later,) and a dinner with natural or organic chicken. All designed to add to your health and have your body working with you and your doctor for a life you love.
Here are a few snippets of information about some of the ingredients in our foods and how they effect us:
High Fructose Corn Syrup (HFCS): Makes you crave more sugar. Found in jam, jelly, cereal, ketchup, salad dressing, bbq sauce, coffee creamer, pancake mixes, soda, salsa, shoyu, etc.
MSG: Preservative, may cause headaches and heart rate: (it does for me): shoyu, frozen foods, chips, dressings, soups, etc.
Benzoate Preservatives (BHT, BHA, TBHQ), : found in milk products, salad dressings, chips, etc.
Artificial Flavorings: chips, canned foods, soups, dressings, sour cream, ice cream, etc.
Sodium Nitrate and Nitrite: These are found in processed meat products: bacon, sausages, corned beef, ham, hot dogs, etc. If the package does not expressly say NO nitrates or nitrites, it has them. I always ask when I am out. I get migraines from these chemicals.
What about all the chicken, beef, pork, etc. which has hormones and antibiotics. I have left this to a couple of stories from the web:
http://www.salon.com/2013/04/14/meet_russ_kremer_americas_most_famous_sustainable_pork_farmer_partner/
http://www.foodsafetymagazine.com/magazine-archive1/december-2016january-2017/antibiotic-use-in-food-animals-a-growing-threat-to-public-health/
There is of course a much longer list. I leave it up to you to do some of your own research. Read labels! Ask questions when you go out to eat. Please do not assume just because you are in a "good" restaurant that everything is fresh. I am a chef and some of the places I eat at are restaurants where the chef is a friend. Still, I ask and then give the chef a hard time when I find out that they have not cured the bacon themselves.
Note: some of the information above is the opinion of the author and not meant to be taken as scientific fact.