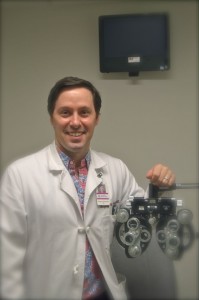 Dr. Schmidt received his undergraduate degree (Magna Cum Laude with Honors) from Brown University and his Medical Degree (with highest distinction) from the University of California, San Francisco. He then completed his Residency in Ophthalmology at Johns Hopkins Hospital, and he also completed a Cornea and External Disease Fellowship at Johns Hopkins Hospital. Dr. Schmidt is an Assistant Clinical Professor of Ophthalmology at the University of Hawaii, John A. Burns School of Medicine. He established his private practice in downtown Honolulu in 2008. Dr. Schmidt specializes in Comprehensive Eye Care, Cataract Surgery, Cornea and External Disease and Corneal Transplantation. Dr. Schmidt has lectured nationally, conducted research, and published peer-reviewed articles in his areas of specialty. He has helped train many other Ophthalmologists in the principles and techniques of Ophthalmic Surgery. In his private practice, Dr. Schmidt personally performs all surgical procedures.
He has been part of the Hawaii Sjögren's and Lupus Support Group and Lectures since 2012. He helps to provide education and lectures once a year. As a member of the medical advisory council on the Sjögren's and Lupus Foundation of Hawaii he continues his support for those living with both autoimmune diseases in our community.
Queen's Medical Center POBI
1380 Lusitana Street, Suite 604, Honolulu, Hawaii 96813
(808)523-2020
Please visit Dr. Schmidt's website at www.hawaii2020.com.