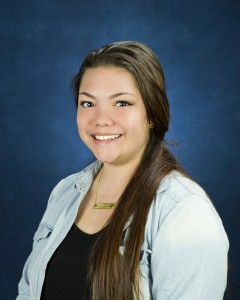 Anissa is nineteen years old and a student at Hawaii Pacific University. She is currently studying biology and her goal is to continue on to medical school and specialize in rheumatology.
She was diagnosed with Lupus in 2007, the week before her eleventh birthday. At a young age she had to grow up quickly! Being responsible and making the right choices about her health was something hard and at times an uphill battle. Skipping her medications, becoming rebellious and having to stay in the hospital have been life changing experiences for her.
Living with lupus has helped her to embrace many hurdles and she has grown to accept this life. She has worked hard and been very successful in achieving her goals!
She made Maryknoll's Principal's and Dean's list as well as the Alpha Lambda Delta Honor Society at HPU. Anissa has been a student leader for Maryknoll's KAIROS senior retreat for the past two years and was a recent L.I.F.E Scholarship winner for the fall 2015.
Dancing hula for ten years and competing as a soloist and in group competition has helped her to understand and love the Hawaiian culture. She is creative and enjoys doing DIY projects in her free time. She wants others to hear her story and have the strength to never give up!
Her next goal……making a difference for those living with lupus in Hawaii.
Read about her journey in the Lupus Warrior section on this website.